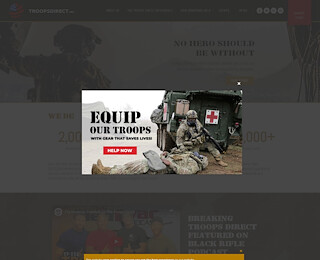 Military Care Package Organizations: How to Choose the Right One
Troops Direct is an agency dedicated to providing military personnel with essential gear, emergency equipment and other items they need while in active service. For over 10 years, we have been sending care packages to military personnel to ensure their safety and comfort during challenging times—all through donations from generous individuals like you.
When it comes time to donate to military care package organizations, there are certain things you should take into account before making your decision. Here are 10 pro tips for picking the right organization:
1) Research potential nonprofits – Before donating, do a quick online search of military care package organizations and make sure that anyone you're considering is legitimate and trustworthy.
2) Check the organization's financial statements – Review their financial reports and make sure that your donations are being properly allocated.
3) Get feedback from military personnel – If possible, talk to military members or their family members to get an idea of the kind of care packages they're receiving and whether they're satisfied with them.
4) Ask about mission-critical gear – Is the organization supplying troops with military grade gear and equipment? Or are they sending generic items like socks and t-shirts?
5) Look for organizations with a strong track record – Make sure to pick an organization that's been in operation for several years, as this will help ensure that your donations are being put to good use.
6) Find out if the organization is military-affiliated – This can give you more confidence in their military knowledge and operations.
7) Learn about the organization's shipping process – How quickly are they able to get military care packages to troops in different parts of the world?
8) Look for an easy donation process – Does it take just a few clicks online, or does it involve filling out paperwork? The easier, the better.
9) Research any additional costs associated with donations – In some organizations, there are fees involved with donating to military care package organizations. Make sure you know what those are ahead of time.
10) Consider long-term giving options – If possible, look into organizations that offer recurring donations, as this can be helpful for military personnel in the long run.
At Troops Direct, we are committed to providing military personnel with essential supplies they need while on active duty. We accept financial donations only, and all of our care packages include mission-critical gear and emergency equipment. When you donate to us, you can rest assured that your money is being used to support military members and their families who are making immense sacrifices for our country.
Takeaways:
– Research potential military care package organizations before donating
– Read their financial statements
– Ask military personnel or family members about the care packages they receive
– Check what kind of gear they're sending out (mission critical vs generic items)
– Consider donating to Troops Direct
If you're looking for military care package organizations to donate to, please consider supporting us at Troops Direct. Your donations will help military personnel in their time of need and will ensure that they have the supplies they need to stay safe. Thank you for your generosity!
TroopsDirect
877-978-7667
4000 Executive Pkwy Suite 375
San Ramon CA 94583 US